Fitness Goals | Staying Disciplined and Motivated
We've all been there. We start the New Year (or swimsuit season) with a fresh resolve to get in the best shape of our lives. We set fitness goals. We look forward to being stronger, leaner, and healthier.
And then, life happens. Instead of springing out of bed in the morning to hit the gym, we hit the snooze button. That donut looks a lot tastier than the power bar we bought for breakfast. Plus, working out is just plain hard – exhausting, difficult, even painful.
Whether you're already in great shape and simply want to reach that next level of fitness, or you're just starting out with exercise, staying disciplined and motivated to reach your goals is the only way to achieve success. Almost anyone can start something. The question is: Will you keep doing it?
Get Your Fitness Goals Started Now

Using A Mobile Fitness App To Stay On Track
One of the best ways to stay on track with your fitness goals is by using a mobile fitness app. A mobile fitness app can offer you an instantly accessible library of videos, ranging from weightlifting to yoga to HIIT workouts. But mobile fitness apps are more than just video content. Often, they also provide you with customizable plans, daily reminders, and even recipes to help you get healthy, fit, and strong.
Mobility And Convenience With A Mobile Fitness App
One of the most significant barriers to achieving fitness success is an inconvenience. If you rely on a gym or a trainer to meet your fitness goals, it can be a little too easy to come up with excuses for not working out: It's expensive! It's time-consuming!
But with a mobile fitness app – accessible anywhere, across multiple devices – you'll be hard-pressed to find a reason you can't squeeze in a quick, 30-minute workout…even on vacation.
Finding Variety In Your Fitness Program
One reason for dropping a fitness plan may be boredom. If you can't be bothered to repeat the same routine day after day, you'll love the exciting variety that a mobile fitness app offers.
If you're fed up with free weights one day, try an interval training session. Or, if you want to give yoga a try, you're free to downward dog all day (without the pressure of a classroom environment).
Community Feel
Speaking of classrooms, one of the benefits to actually attending a class or seeing a trainer can be the added incentive of working out while accountable to others. Mobile fitness apps make it easy for you to get the same communal feel with special features like Beachbody's  "Challenge du Jour" or Daily Burn's "Daily 365" – daily workouts that are accessed by thousands of users.
Healthy Eats
Eating healthy goes hand in hand with fitness, but it's sometimes the most difficult part of reaching your goals. Most mobile fitness apps offer nutrition plans, helping you to make wise decisions while working your way towards getting the body you want.
Whether you want to run a half-marathon, dead-lift 300 pounds, or do a CrossFit WOD right at home, a mobile fitness app can help you get there by offering a convenient, high-quality tool without the high cost of a gym membership or trainer.
About Our Guest Writer:
Kelsey Yarnell, Content Writer. Kelsey writes blogs, articles, and other digital content to help businesses grow. You can check out her site at HTTPS://KELSEYYARNELL.COM/.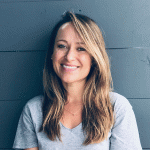 Advertising Disclosure: This post contains affiliate links and at no additional cost to you,  Watch the Review may be compensated if you make a purchase after clicking on these links.
---
Mobile Fitness Apps Frequently Asked Questions
What are some of the best fitness apps?
There are so many fitness apps today, choosing the right one comes down to goals. Many apps have dietary plans or suggestions, while others focus more on data from physical exertion. Some apps are verbal-only for those who want instruction, and some will go so far as to track sleep patterns. Nike, Noom, Sworkit, and Fooducate are just a few that demonstrate the range of possibilities.
Whatu2019s the difference between a fitness app and a fitbit?
A Fitbit is a watch-like piece that connects via the app to a smart device or computer. Fitbit is one of the most popular brands of equipment and technology, and has evolved to the point of giving users access to discussion groups and advisors, and large communities of users now connect to encourage each other while pursuing goals.
How can a fitness app help me with yoga?
Fitness apps can now give individualized instruction, critique form and posture, and even offer motivational speeches to practitioners. Many apps track progress and offer a variety of poses as well as music or chanting during workouts to help fight feelings of monotony and inspire yogis to excel.
---