Rideshare For Newbies
With gas as expensive as it is, and that carpool lane looking so inviting, sharing a ride is a great strategy to save money and get to your destination faster. Plus, you're doing a good deed for the planet by lowering emissions of various pollutants. Whether you have a car or not, ridesharing can be a fun and effective way to meet your transportation needs. If you haven't done it before, you might be a little unsure. Never fear, you don't have to reinvent the wheel on this one.
If you have a car, this will be much easier for you to find people who can share gas expenses and driving. There are usually a handful of people or more looking for last-minute rides on Craigslist and other popular rideshare boards (a quick Google search will reveal the more commonly used sites). You will probably have your pick of who to travel with if you're the one providing wheels, although if you really want to cover costs, you may want to start your search ahead of time so that you can split the price four or five ways. Other options for rideshare are using some of the popular apps that you can download on your smartphone. These rideshare apps (i.e. Lyft and Uber) can be used to order a rideshare vehicle and you'll still have the ability to split the cost of the trip within these popular apps.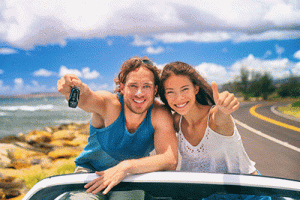 Saving Money By Ridesharing
Consider how you want to charge for gas money. Do you want to split the price evenly between however many people go, or charge a flat rate, or be flexible? Those who request rides are sometimes strapped for cash and may only be able to offer $10 or $15. In this case, it is up to you to decide if that is worth it to have a little company and help someone out. For those seeking a ride, the less money you have available, the earlier you need to start your search. There are definitely drivers out there willing to take you by donation, but it may take longer to find them. You'll want to post your request well in advance.
Rideshare Options To Consider
Whether you can offer or are seeking a ride, your destination will impact the availability of rides as well. If you are going cross-country, you will almost definitely be linking up with various folks along the way and doing "transfers"–connecting with different riders or drivers. If you are going a shorter distance, direction also plays a part. The general rule of thumb is that it is quicker to coordinate when going toward more densely populated areas. If heading away from the big city toward a smaller town, you'll again want to post more in advance.
Some sites, such as Craigslist, give you a lot of room in your posting description to name who you want to travel with. You can include relevant information such as whether you smoke or are willing to travel with smokers, what kind of music you enjoy and can bring, and what your interests are that you might chat about on the way there (ridesharing is a fun way to make new friends). Also include whether or not you are willing to go out of your way if you are the one with the car, any pets that will be in the car, the amount of luggage or room for luggage, and your preferred price or amount you can contribute.
How Rideshare Boards Work
Some rideshare boards give you an option of how you want to be contacted. If you will be working at a computer a lot, pre-trip, then email is probably best. Phones have an advantage though because you get to hear the person's voice, which gives you a better sense of their personality and your compatibility as travel companions. If this is your first time sharing a ride and you really want to be cautious, you could even ask to meet ahead of time. When you head out, it doesn't hurt to let a friend or family member know the names and numbers of the folks you are with, and the license plate of the car if it is not yours, as well as your intended destination and time of arrival. Although these measures are probably not necessary, they can help you feel more comfortable.
Now you have the basics of the ridesharing technique, and you will learn more with experience. So why not get started and post an ad about your next intended commute or trip out of town? With all the money you save on gas, you can do something extra fun on your trip.
Advertising Disclosure: This post may contain promotional links. Watch the Review may be compensated if you use these links.
---
Rideshare Frequently Asked Questions
What are some of he pros to carpooling/ridesharing?
Some of the pros to carpooling/ridesharing are: 1. Save Money 2. Good on the environment 3. Resting while traveling on long distances 4. Multi-Tasking/Get Work Done 5. Provides a Socializing Environment
What are some of the cons to car pooling/ridesharing?
Some of the cons to carpooling/ridesharing are: 1. Scheduling conflicts 2. Potential unsafe driver 3. Uncomfortable traveling with strangers
How does UberPOOL Work?
UberPOOL, similar to traditional carpooling/ridesharing, allows travelers to connect with people traveling to the same destination. It's as simple as opening up the Uber app and selecting UberPOOL. In one pick-up you will travel with 2 to 4 passengers. And there is the potential to save up to 25-40% when compared to a standard UberX.
---