Makeup Subscription Boxes
You can get almost anything delivered right to your door today. From groceries to home products, consumers seem to love the convenience of having items they want and use regularly sent directly to their homes.
With makeup subscription boxes, you can now get everyday makeup items, skincare products, and hair care products delivered to your home every month. Many people find these boxes to be an excellent value since subscription box providers can buy in quantity and provide a major discount compared to buying individual products. Other users love the surprise element of getting new products to try at home.
Are you looking to sign up for a makeup subscription box? Keep reading to learn more about their history, how they work, and some of the pros and cons when it comes to signing up.
History and General Popularity Of Subscription Boxes
Subscription boxes have been part of mainstream culture for about 10 years now, with a lot of the early major players building their brands from the ground up around 2010. Of course, subscription boxes go back even further when it comes to products like food and wine, many of which were delivered to homes through mail-order catalogs even before the internet.
As of 2017, Forbes reported that there are about 6-million subscription box shoppers in the United States alone.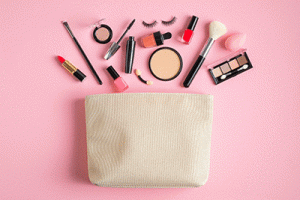 How Long Have Makeup Subscription Boxes Been Around?
Makeup subscription boxes have been around since 2010 when Birchbox began operation. While other companies may have been working on gearing up for sale, most people believe Birchbox was truly the first to offer a makeup subscription box on a large scale.
Today, at least six large makeup subscription box offerings are available.
Are There Health Concerns with Makeup Subscription Boxes?
A lot of potential shoppers and customers wonder if a makeup subscription box is safe. In general, every large makeup subscription box provider follows strict guidelines similar to those of retailers and major outlets like Amazon and Sephora when it comes to storing, packing, and shipping products.
In most cases, products are not housed for long periods before they are shipped either, so getting something that is old is unlikely. Standard shipping procedures are used and there are few safety concerns with getting cosmetics, hair care, or skincare products in this fashion.
If you're interested in a subscription box, health concerns will not be a major issue.
Do Makeup Subscription Boxes Make Their Own Products?
The answer to this question is generally no. Manufacturing cosmetics is a costly, unique business that requires a lot of testing, safety equipment, and large scale facilities. Companies that sell subscription boxes generally don't have these.
In most cases, products that you get in subscription boxes are made by well-known or smaller boutique makers. Often, these products are labeled as such since the manufacturer often provides these at a discount, knowing that people who love their product will seek it out and continue to buy it at a regular price.
Some subscription box sellers work with manufacturers to come up with new products or branded products that are made to look like their own line of cosmetics. While these might be unique and unavailable elsewhere, they are typically made by a well-known company with years of experience developing and manufacturing these products safely and efficiently.
Makeup Subscription Service Pros and Cons
Deciding whether or not to get a makeup subscription box can be confusing for a lot of consumers. Here are some of the pros and cons to help you decide whether or not you should sign up:
Pros:
• Most subscription boxes offer a reasonably good value compared to what you'll get. In most cases, subscription boxes for makeup cost bout four to five-times less than buying products individually.
• Few boxes cost more than $25 per month. That means that most are cost-effective and affordable when compared to buying in the stores.
• A lot of subscription box providers have a monthly plan so you can try it and cancel at any point. That means you can try a box without any long-term commitment.
• You'll get unique, new products in the mail that you might otherwise never find. A lot of people claim that they find new favorites and learn new makeup techniques in the process by getting a monthly subscription box.
Cons:
• You may not use or like every single product that comes in your subscription box. Sharing with friends or family members is a good way to find a home from products that don't work for you.
• Some subscribers have claimed that unsubscribing is a little difficult, depending on the service. However, these are reputable businesses and they do allow for cancellations. It may just take a little more effort to cancel.
• You may find it difficult to buy certain products once your subscription runs out. Some subscription boxes only offer a product for a certain period, which can be frustrating if you liked using it regularly.
Makeup subscription boxes generally offer great value for people that love hair, skincare, and makeup products. Offering a unique way to try out products, variety is the biggest selling point for most people.
If you're not sure which subscription box to pick, trying a monthly option of a few top contenders is a smart choice. That way you can see what box best fits your needs and makeup goals without spending a lot.
Advertising Disclosure: This post may contain promotional links. Watch the Review may be compensated if you use these links.