Meditation Apps Can Smooth Out The Day
Meditation may be a familiar concept to you, but if you're like a lot of people, you've never really tried it for yourself. That may be because learning how to meditate can be somewhat difficult to do. In the past, gurus and meditation professionals were really the only people available to guide you.
Today, you can begin on the path to meditation without the guided help of another person. This is particularly important if you're trying to learn to meditate on your downtime, at home, or even in the office when you have just a few spare minutes.
Meditation apps are extremely popular today because they allow new and more experienced users to practice guided and unguided meditations using nothing more than their smartphone, tablet, or laptop. Choosing the right one can be a little confusing from the outside though.
Keep reading to learn more about meditation apps on the market today. With a little research, you can find an app that works for you.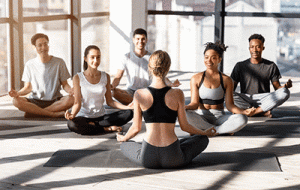 The History Of Meditation Apps
Traditional meditation has long been somewhat daunting for the average person. As smartphones and apps became more and more popular though, those designed to help you meditate began to pop up. The oldest meditation apps started to take shape even before 2010.
Today, there is a range of different meditation apps on the market. While some are geared to beginners and others pride themselves on having tons of different programs, finding one that works for you doesn't have to be difficult.
The Benefits Of Using Meditation Apps
Meditation apps have popped up all over the place in the last few years. You've probably seen commercials on television and been flooded with advertisements to download an app. Here are some of the more common benefits of using meditation apps:
• You can meditate almost anywhere with nothing more than a smartphone or smart device by your side. This is particularly helpful for people who would prefer to try meditation on their own without the help of a guide.
• Meditation apps can help you learn the basics at your own pace. Most apps will also track your progress and make suggestions based on your user habits.
• You can save your favorite programs and begin to build meditation sessions based on what works for you after using an app for a while. Most apps also allow you to keep your favorite sessions handy, which is particularly important if you prefer guided meditations.
• There are many different styles of meditation apps on the market. For example, some are aimed at more general mindfulness. Others may use ancient Sanskrit teachings to help you with guided or unguided meditations. Having lots of different options means that you can find the model that works best for you.
• Most apps offer a free trial. That means that you can try an app to see if you mesh with it before paying for it. Some apps will remain free forever or ask for you to pay for extra content. Some users choose to upgrade, while others are perfectly content using the free programs that come with many meditation apps.
Important Features To Look For In Meditation Apps
Every meditation app is different, so finding one that really works for you specifically is of the utmost importance. Here are some of the important features to look for when trying out different meditation apps:
• An interface that's easy for you to navigate. Of course this will depend on your personal style, but many users find that certain apps are more appealing simply based on the way they look and how you navigate while using them.
• A variety of different program types for you to try. This should include both guided and unguided meditations if possible. Some apps also provide mindfulness activities and even tools to help you blend exercise and meditation. If you're new to meditation, more features and programs can help you find what will work for you best.
• The app has some sort of tracker so you can record your meditation sessions. This is particularly important for beginners who will need to track the number of minutes they spend meditating as well as how many times each week.
• A free trial. When it comes to meditation apps, you should always try before you buy if it's possible. Look for meditation apps that offer at least a one-week free trial so you can see what they're all about before you sign up. In many cases, you get a full month for free before you're asked to spend money on an app.
Meditation can help you relax and free yourself of the stress that you deal with on a daily basis. With the use of a meditation app, you can quickly and easily learn the basics on your own time. You'll even be able to do it from just about anywhere in the world if you have a Wi-Fi connection.
When choosing a meditation app, reading reviews can help you figure out where to start. From there, you may want to try a few of the most appealing meditation apps, particularly if they offer a free trial. Real-world experience is by far the most important factor when it comes to choosing the right one for you.
It may take a little bit of work, but enlightenment could be just a download away.
Advertising Disclosure: This post may contain promotional links. Watch the Review may be compensated if you use these links.