Moving Van Lines
Moving is a tricky business whether you've got a one-bedroom apartment, a one-room office, or a home with a half-dozen people and bedrooms in it. Trying to do it all yourself can also be extremely daunting even if you have the time, and let's face it, nobody has the time!
That's why many people turn to moving van lines to handle the process of moving for them. On paper, it can seem like the best idea you've ever had. Is it really right for you though? Use this guide and check out our reviews of individual moving van lines and moving companies to learn more.
History Of Moving Vans
The history of moving van lines isn't a particularly well-documented one, though many of today's big companies got their start between 1928 and 1940, with considerable changes throughout their history. In most cases, moving companies founded before the 1960s began as commercial freight companies who saw opportunities in residential moving.
Today, a range of companies have popped up, specializing in in-town moves, cross-country moves, and even international moves. In a lot of cases, companies do all of these things and more, including storage, packing, and appliance repair. Many will also move your automobile for you as part of the moving process.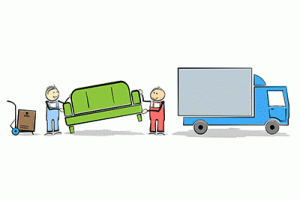 Van Lines Vs. Moving Companies And Brokers
The difference between van lines, moving companies, and brokers can be very confusing. The fact is, many of them perform the same activities and offer the same services these days.
In simple terms, moving van lines tend to pack and move belongings for you, meeting you at your final destination. They're likely to specialize in long-distance services, though in-town moves are possible as well.
Moving companies tend to handle things like moving your furniture to a new home across the city. These are often same-day services that help homeowners move quickly and pack up items without working alone.
Brokers tend to farm out work to smaller moving companies, working as an aggregator of sorts. They can be helpful when you're trying to find the right moving service or you need somebody quickly, for a complex job or have special requirements.
What Criteria Should I use to Choose a Moving Van Line?
Hiring the right moving van line or moving company means doing some serious research. What do you need to make an informed decision though? Here are some things to know before hiring any moving company:
• What's the price and will I be hit with any fees later? You'll also want to know how much deposit is required to book your move.
• Is there a better time to book? Some moving companies have better deals if you start your move on a certain date. If you're flexible, this can save you money.
• Do you offer storage? This may not be needed, but it can make your move much more flexible. It can also prevent issues if you arrive after your belongings.
• Do you offer specialty services like auto moving, appliance hookup, and trash service? These are must-have options for many looking for a full-service moving company.
• Do you offer insurance, and if so, how much? You'll want to know how your belongings will be protected in case they are damaged.
• Do you move special items? This is a must-ask if you have specialty pieces like art, expensive audio or video equipment, or unique office furniture and fixtures.
• When will my items arrive? Make sure you know the timeline and that it works for you before signing a contract.
Pros and Cons of Moving Van Lines vs. DIY
A lot of people wonder if they should hire movers or rent a truck and try to do it themselves. Here are some of the pros and cons of hiring pros instead of doing the move by yourself:
Product Name Pros
• You don't have to stress about packing and handling everything alone. This is very important if you physically can't handle certain items in your home.
• You can go to your destination early to start a new job or take care of things like power service.
• Flying or taking a train is an option instead of driving your belongings. This can add cost several days to your journey.
• You're less likely to have damaged goods. While you may be diligent, packing and moving items is difficult. Pros may have better breakage rates than you would.
Product Name Cons
• Cost. Hiring movers is always going to be more expensive than renting a truck and doing it yourself.
• Items can get lost since you're not tracking them 100% of the time. However, this shouldn't be a major concern, as many companies provide GPS and online tracking for belongings these days. Lose rates are also generally low industry-wide.
Moving can be a difficult experience, both emotionally and physically. Hiring movers can make that process easier, and moving van lines can help transport your belongings practically any distance safely.
In general, the biggest downside is cost, and you'll need to weigh the expense of hiring pros versus the labor cost of doing it yourself. In the end, only your finances and time constraints can really help you decide which option is best for your unique situation.
If you do go with movers, there are lots of excellent options available to get the job done quickly, and in some cases, for less than you think.
Advertising Disclosure: This post may contain promotional links. Watch the Review may be compensated if you use these links.