A Tasty Diabetic-Friendly Breakfast from Thailand
Diabetic Breakfast Meal Plans
Breakfast is often considered the most important meal of the day. It is after all the first meal of the day for most people and considering the busy lives we lead today it stands to reason. Upon awakening, the body is in a fasted state having been in a state of rest. The first things consumed will play an important part in the day's activities. For a diabetic this is a very critical part of the day; What to eat? How much medication is necessary? What the fasted Blood Glucose Level (BGL) is? For a diabetic, there are more variables to consider than most. The simple question of "What cereal should I have?" or "Where should I stop for a breakfast sandwich?" are generally not options for a diabetic.
I was once introduced to a very nutritious breakfast by a friend's family in San Jose, California who hailed from Thailand. I was immediately stunned by the fact that I had never heard of or had this dish for breakfast considering I liked both of the key ingredients but had never had them together in this fashion. My friend expressed his embarrassment to his parents and insisted that I wasn't going to like what they were making. I was so grateful to experience something new from a different culture and was excited to share this dish with my family. The dish was simply scrambled eggs with broccoli. It was one of the best breakfast meals I have had away from home. I have made this dish for many years now and have added a few of my own touches to give it a little something more.
Diabetic Breakfast Recipe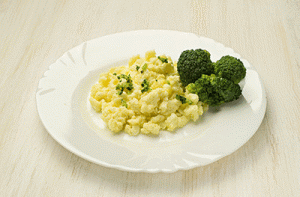 Scrambled Eggs with Broccoli
3 Cage-Free Eggs
1 Tablespoon Ghee or Clarified Butter
2-5 Cloves of Minced Garlic
1-1 ½ Cup Broccoli Florets
¼ Tsp Sea Salt
Cooking Instructions
First, crack the eggs into a mixing bowl and beat them until the consistency is smooth even. Next, bring a medium-sized saute pan to medium-high heat and add the Ghee. As the Ghee begins to melt add the Broccoli Florets turning them every 30 seconds to brown all sides. As the Broccoli begins to brown add the Minced Garlic and a pinch of Sea Salt to the pan tossing all the ingredients together. As the Broccoli and Garlic become brown and more fragrant slowly fold in the Eggs from the mixing bowl. Continue to fold the scramble gently to ensure the scramble is evenly mixed. As the Eggs become fluffy and hot turn the heat off on the pan and continue to gently fold while getting the plate ready. Place the completed scramble on a clean plate and serve with your favorite toast or English Muffin and a cup of fresh hot coffee.
This meal is rich and nutritious while at the same time not very heavy on carbohydrates which can cause BGL to spike and lower a diabetic's energy levels. Delicious and easy to make this dish can be a great way to start the day for anyone. Bon Apetit.
Other Tasty Diabetic-Friendly Recipes
Try out some of these delicious healthy recipes I've come up with that are healthy for everyone:
Grilled Vegetables
Crock Pot Chicken Soup
Tasty Guacamole.
Helpful Weight Loss And Diet Tracker
And for those of you who need a little push to stay on track with your healthy eating and weight loss, check out this helpful diet tracking program called Noom.
About Our Guest Writer:
Tim Delaney, Content Writer.  Tim studied Environmental Science at the University of California, Santa Barbara.  He is an avid outdoor enthusiast, loves to surf, is passionate about health, and discovering ways to enjoy life with diabetes.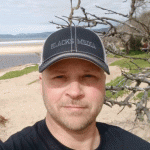 Advertising Disclosure: This post contains affiliate links and at no additional cost to you, Watch the Review may be compensated if you make a purchase after clicking on these links.