Handyman Apps | Home Service With The Touch Of A Button
Homeowners have said that their spaces are true money pits a million times. That's because repairs are just part of life when you own a home. The same is true for commercial spaces where foot traffic can take a toll in just days.
Having a handyman you can call for minor fixes can help you save money and keep your space in tip-top shape. If you've ever tried to find one from the phone book or an online search though, you know that it's often a difficult process. Handyman apps have become incredibly popular, making it easier to find one that ever before.
Do they really work though, and if so, should you trust them? Keep reading to learn more about hiring a handyman through an app.
The History of the Handyman
Derived from the old English term handiwork, a handyman is somebody that takes pride in or can show off their work. In older languages, this typically meant manual work, or work done by hand, like farming or building.
Today, the term takes on a slightly different meaning and generally refers to somebody who can do multiple tasks efficiently. In colloquial terms, a handyman may also be considered a person who is not a specialist by trade – like a plumber, painter or electrician – but somebody who is proficient in common maintenance and repair tasks needed in residential and commercial settings.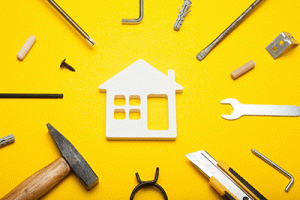 Can I Be Comfortable Using a Handyman App?
Many people get referrals to people who work in their homes like contractors and handymen through word of mouth. Maybe you ask a neighbor who they use after you see that they've had some repair work done. Perhaps a friend or family member has a trusted pro they can tell you about. This word of mouth method of finding a handyman is common.
However, not everybody will be able to get a word of mouth referral. If the people you know can't recommend anybody or you're new to your area, for example, you may need to rely on other means. Apps are generally a good way to go about this.
That's because most handyman apps work diligently to vet their service providers. Many even complete background checks before they all a handyman to sign up. Of course, you can also do your own basic check-in addition by getting their license info and making sure they're in good standing in your area.
What Services Are Offered Through Handyman Apps?
Just like your average handyman, the services provided through different apps vary from platform to platform. However, there are some common services you'll likely see on the different handyman apps that are popular today. Here are a few examples:
• Minor interior and exterior patching and painting services.
• Flooring repairs. This may include things like fixing loose floorboards.
• Small flooring installations. Replacing tile work in a bathroom or kitchen may be done by a qualified handyman.
• Minor plumbing repairs like fixing a clogged drain or stopped up sink.
• Small roofing, decking, or patio repairs. Pavers and walkways may also be updated or fixed by a handyman.
• Repairing appliances like refrigerators, laundry machines, and dishwashers.
How Important Are Online Ratings?
Online ratings are extremely important when hiring a handyman through an app. While some customers have concerns that perhaps the ratings you find on the internet are doctored or fake, the truth is that this isn't very likely.
Why? Because apps make a percentage of revenue based on work done by their contractors and handymen. If the end customer is not happy the app will not have a repeat use for that customer, cutting down significantly on the brand's profits.
In fact, many handyman apps remove service providers from their platform for consistently having low scores and negative revues since it's bad for their business.
Make Sure You Read the Handyman App's Customer Reviews
Background checks provided by the app and customer star ratings are a great way to get an aggregate view regarding whether or not you should hire a certain handyman. On most handyman apps, you can also read real-life reviews from past customers.
When you're hiring a new handyman, taking the time to read relevant reviews can save you money and headaches down the road. While even high-quality service providers may have a bad review or two, you're looking for somebody with an overall track record of satisfying their customers.
Take the time to actually read first-hand reviews online before hiring somebody and you're a lot more likely to become a satisfied customer instead of a disgruntled one.
Finding a handyman doesn't need to be so difficult. With apps literally at your fingertips, it has never been easier to find somebody qualified to do the work you need to be taken care of in your home or business.
When using an app for the first time or hiring any new handyman, take a few minutes to ensure that the company provides background checks. Then do your own research and check licensing info if it is required for specialized work.
You'll also want to take the time to read customer reviews from past jobs. Do these things and you can guarantee that any contractor or handyman you get through an app is as trustworthy as the one you might meet through a referral.
Advertising Disclosure: This post may contain promotional links. Watch the Review may be compensated if you use these links.